15.11.09

Water tanks for small-scale farmers



The collection and storage of water is a serious issue for many farmers in the semi-arid area. Therefore, Faraja came up with a project to guarantee water for small-scale farmers all year round. The water project was supported by Rotary Club Solothurn and other sponsors from Switzerland.



Local handicrafts men built two demo tanks at Faraja Latia Farm. Within the next one and a half years the same water reservoirs are to be built for 100 small-scale farmers – five of them are already installed.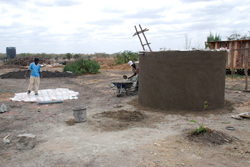 [-]